1962
Erkki Virranniemi began sawmill operations using a portable circular saw.
1965
Virranniemen Saha Oy was founded in Northern Kuusamo.
1968
The sawmill was moved to its current location and the company's name was changed to Pölkky Oy.
1972
Planing operations were initiated.
1974
Following Erkki Virranniemi's death, his widow, Saara Virranniemi, assumed the role of Managing Director.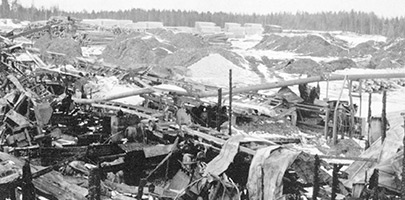 1976
Fire completely destroyed the sawmill operations in April 20th 1976
1985
Main building of the mill on fire in August 15th 1985. The building was burnt to the ground in an hour.
1986
After the fire, the renovation of the sawmill started immediately. The new sawmill was opened in 1986.
1991
Saara Virranniemi handed over the role of Managing Director to her son, Jouko Virranniemi.
1991
Start-up of pressure Impregnation and finger-jointing activities in Oulu.
1997
Pölkky Oy purchased the Taivalkoski sawmill operations (Ulea Oy) from Enso Oy.
1999
The new hewsaw line started up in Taivalkoski. Pölkky Oy was presented with national business award in recognition of the company's achievements.
2001
Polkky was the first Finnish sawmill that was granted an international PEFC-certificate.
2007
Biofuel heating plant completed at Kuusamo, reform of dimension sorting facility at Taivalkoski sawmill and other major investments.
2009
Pölkky purchased the operations of Lappipaneli Oy from the Ruukki Group. Drying kiln investments in Kuusamo. Trainer of the Year Award.
2010
Power plant investment of Taivalkosken Voima Oy.
2012
Pölkky Oy purchased the saw mill operations in Kajaani (Kajaaniwood Oy) from UPM.
2012
New glulam beam plant launched in Kuusamo.
2017
Pölkky was the most active employee trainer of the year in the Oulu Chamber of Commerce.
2018
Polkky invested in Xray scanners for logs in all four sawmills.
2018
Three generations of family working together.
2018
New CEO brings new winds.
2018
Polkky signs letter of intent for new Trimble ConnectedForest wood procurement system.
2020
Pölkky was the most active employee trainer of the year in the Oulu Chamber of Commerce.
2021
Pölkky Group will complete a group merger during the fiscal year 2021, with the subsidiaries Ulea Oy, Kitkawood Oy, Kajaaniwood Oy and Pölkky Metsä Kmo Oy merging into Pölkky Oy. Our strategy is to work towards new growth objectives as a unified, one Pölkky.
2021
As part of building a unified, one Pölkky, we also renew our brand. Our new slogan is Pölkky – Roots for Quality Living. Pölkky manufactures building solutions which enable better quality of living. We want to work in close partnership with our entire value chain – the forest owners as well as our resellers and customers – at the roots of quality living, producing better living environments in cooperation.